One of the most useful features of the PRO version is the Mark as paid one. This tutorial will guide you through how you can mark authors and posts as paid with Post Pay Counter, and how to use the plugin to pay authors through PayPal in just a few clicks.
Marking as paid is useful especially because it allows for automated payment managing! You will not need to take care of how much you paid an author last month and how much you should pay him this month. The plugin will keep a payment history and will make all the math needed.
Setting up permissions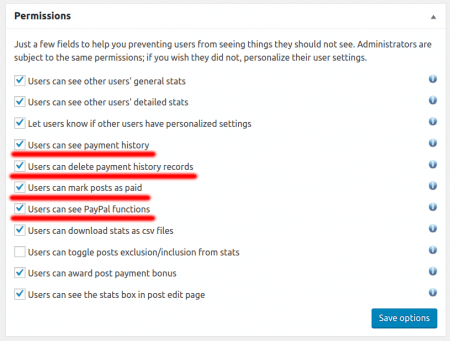 First thing you need to care about is permissions. Post Pay Counter has detailed permissions settings to keep users from accessing features they should not. You yourself may not yet have access to payment features because you lack permissions to do so.
Head over to Post Pay Counter > Options and look for the Permissions box. Let's start by ticking all payment-related permissions. Of course, you can play around with them and decide exactly which you want to be active, but we are going to present all the available features now.
When your setup will be complete, you may want to personalize user settings in order to hide those features from normal users and only see them yourself.
Mark as paid posts and authors
Payments happen in the stats page, so let's go to Post Pay Counter > Stats now. Payment features are available both in the general stats view (where authors are displayed) and in the detailed stats view (where posts details from a single author are displayed). We will be showing them off for the detailed view of a specific author now.