Referral Visits is an addon for Post Pay Counter and Post Pay Counter PRO that allows to pay users for the visits and traffic they bring to your site.
Users will be able to get a special referral link for each post and page of the site, that they may share. All users get a link they can share. Every time someone visits that link, a referral visit will be logged for that author, effectively allowing you to award a bonus to authors that bring traffic to the site. The addon requires the Google Analytics module of the PRO version to be set up as a source of visits data.
The addon is fully integrated with the payment features of the PRO version (payment history, due payment). A convenient table shows all posts an author has referred visits to, what already been paid and what is left to be paid.
Referral Visits integrates with the BuddyPress addon as well, to provide referral visits and information to users in their BuddyPress member page. The BuddyPress addon is a not a requirement for Referral Visits to work, though.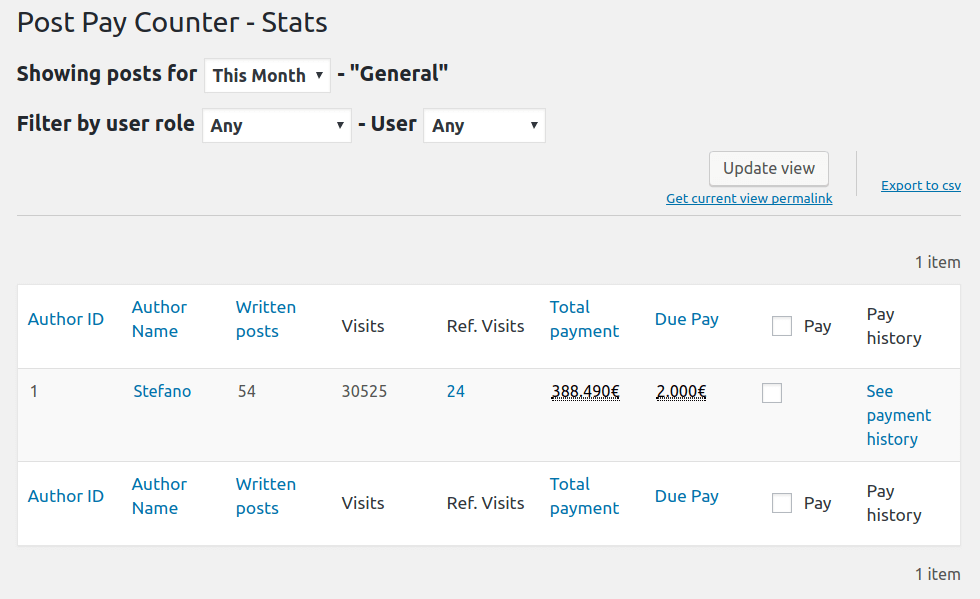 Notice that currently only users who have at least one published post show up in the stats page! So referrals will need to satisfy this requirement as well!
Buy Referral Visits!
Real basic
€20
1 website license
1 year of updates
1 year of support
Recommended
Professional
€42
2-5 websites license
1 year of updates
1 year of support
Enterprise
€59
Unlimited websites
1 year of updates
1 year of support
Installation
First of all, make sure you have the latest release of Post Pay Counter and Post Pay Counter PRO installed and active. As soon as you purchase the addon, you will get an email with the download link and your license key: download the plugin through that link, extract the zip and upload its content (the whole ppc-request-payment folder) to your WordPress wp-content/plugins folder. Now head over to your website plugins list page, look for Post Pay Counter – Referral Visits and activate it. Finally, go to Post Pay Counter > Options > License status, paste your license key in the apt field and hit Submit. You're done: your license has been activated and you can now enjoy all the new features.
Screenshots
Problems?
We are always here to help you! And guess what: we always take extra care of our dear PRO users. Drop us a line anytime and we'll help you as soon as we can!